One thing we really pride ourselves on here at Arizona Bug Company is our ability to create some of the nicest spray equipment around. My business partner mentor and long time friend is probably one of the most talented guys I know when it comes to keeping us running with state of the art gear. He builds all of our spray rigs from scratch so we can have them just the way we want them. Recently we acquired two Ford Rangers to add to our ever growing service fleet and built two nice spray rigs to outfit them. Here are some pictures of the build process so you can see how much work goes on behind the scenes to keep us up to date with some of the nicest gear in town.
Vesper bats are the common bats we see flying at dusk in Arizona. They are insectivores that use echolocation to hunt.  It is quite common for these bats too cause unsightly staining from fecal matter and urine on houses in overhang area's. Bats are protected here in Arizona and are considered beneficial. Deterring them from an area is the only method of control allowed by the Arizona Game and Fish. You can try mechanical, electrical and liquid deterrent I have had limited success with all. Mechanical is physically sealing the area from bat entry. This is sometimes extremely difficult to do and can be expensive but if done correctly is the most effective. Electrical is the use noise emitting devices that disrupted the bats from flying to an area. I have used these with some success but some people find the noise emitted disturbing. Liquid is by spraying a product like Liquid fence in the area bats are landing it seems to work good for short term but smells bad during application and needs to be applied frequently. Please check out the pictures of some common Arizona bats and the staining they can cause.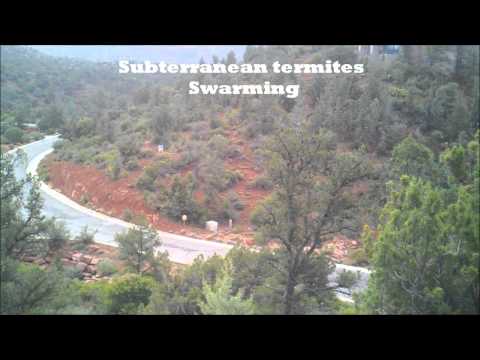 While working in Sedona Arizona this past week during the monsoon season we came across these subterranean termites swarming out of the ground to take flight. I put together this little video so everyone could see this phenomenon. Enjoy
Blister beetles get their name because of they have a defensive secretion made up of cantharidin. There are over 7000 species known worldwide and they come in many colors, shapes, and sizes. The adults typically feed on a wide variety of plants and flowers and the larva enjoy grasshopper eggs. They can cause damage in gardens and crops because they will feed on the leaves of your plants. You generally don't want to handle them bare handed because if they become agitated they can release the blistering agent.
Category : Bugs | Cool Bugs
The Black Widow Spider has to be one of the most recognizable spiders. She is named black widow because oftentimes she will eat the male after mating. The bite of a male widow is not considered dangerous but a little nip from the female widow can be very dangerous to humans. The web of this spider is erratic in nature and very sticky and the strands are very strong.
My experience with the Black Widow has been – if you give her space she will run and hide from you. The main two ways I see people get bit are getting too close if she has a egg sac, and putting their hands in areas that the spider is hiding.
If threatened this spider will bite or if she has eggs she will protect them. I often find these spiders in children's outdoor toys that have not been played with for awhile. I always encourage parents to check these toys regularly. They are almost always outdoors or in garage entry points but can make it inside from time to time. The most common way for them to come in is when you carry them in on something that had spent some time outdoors.
The Paper Wasp is a social insect with annual nests. The queen builds a nest using chewed wood pulp. Adult paper wasps either drink nectar or yummy caterpillar juice. The adults are kind enough to return to the nest and regurgitate the caterpillar milk shake for the larva. But don't worry the baby wasps return the favor by allowing the adults to drink their saliva (yum yum).
Nests usually have a few dozen workers, but can get rather large if not treated and removed. In the Fall when it gets cold, new young queens will burrow into the ground to over winter waiting for spring to do it all again. The young queen doesn't reuse the old nest in the spring but starts over by building a new one.
The pictures here are actually some microscope shots of wasps in development inside the nest. Thought it was interesting since most people never get this close to them.
Living in the high desert of Arizona you come across some strange insects. This fun looking guy was found by my technician Tory. He is called the Banded Alder Borer Beetle. It is in a family of beetles known as the longhorn wood boring beetle. They can be found from Alaska to Arizona. They  reach sizes of about 25 to 35 millimeters. The larva of this beetle feed on dead hardwood trees. They are not considered a pest but I wanted to share such a cool looking insect.