During a routine termite inspection in Sedona last week I came across a few spiders. The majority of them being black widows. So I thought this would be great time to remind folks to keep their eyes open when getting into your storage areas. The widow is a very shy spider but will bite if provoked. Please look at the pictures to get a good look at the spider and its egg sacs.
You really never know what you will find doing this job. The other day Mark was doing a routine termite inspection and found  a large hive of bees in the attic. We had to approach the bees with caution because once you got into that section of the attic you could not retreat quickly if you needed to. We treated the colony with foam and the removed it. With the large number of Africanized hives this could have been a dangerous situation for a unsuspecting home inspector or service person that needed access to the attic.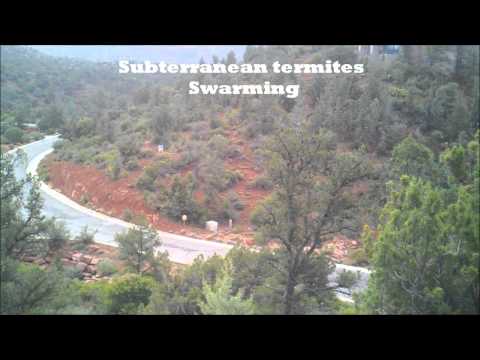 While working in Sedona Arizona this past week during the monsoon season we came across these subterranean termites swarming out of the ground to take flight. I put together this little video so everyone could see this phenomenon. Enjoy
Blister beetles get their name because of they have a defensive secretion made up of cantharidin. There are over 7000 species known worldwide and they come in many colors, shapes, and sizes. The adults typically feed on a wide variety of plants and flowers and the larva enjoy grasshopper eggs. They can cause damage in gardens and crops because they will feed on the leaves of your plants. You generally don't want to handle them bare handed because if they become agitated they can release the blistering agent.
Category : Bugs | Cool Bugs | Blog
The Black Widow Spider has to be one of the most recognizable spiders. She is named black widow because oftentimes she will eat the male after mating. The bite of a male widow is not considered dangerous but a little nip from the female widow can be very dangerous to humans. The web of this spider is erratic in nature and very sticky and the strands are very strong.
My experience with the Black Widow has been – if you give her space she will run and hide from you. The main two ways I see people get bit are getting too close if she has a egg sac, and putting their hands in areas that the spider is hiding.
If threatened this spider will bite or if she has eggs she will protect them. I often find these spiders in children's outdoor toys that have not been played with for awhile. I always encourage parents to check these toys regularly. They are almost always outdoors or in garage entry points but can make it inside from time to time. The most common way for them to come in is when you carry them in on something that had spent some time outdoors.
The Paper Wasp is a social insect with annual nests. The queen builds a nest using chewed wood pulp. Adult paper wasps either drink nectar or yummy caterpillar juice. The adults are kind enough to return to the nest and regurgitate the caterpillar milk shake for the larva. But don't worry the baby wasps return the favor by allowing the adults to drink their saliva (yum yum).
Nests usually have a few dozen workers, but can get rather large if not treated and removed. In the Fall when it gets cold, new young queens will burrow into the ground to over winter waiting for spring to do it all again. The young queen doesn't reuse the old nest in the spring but starts over by building a new one.
The pictures here are actually some microscope shots of wasps in development inside the nest. Thought it was interesting since most people never get this close to them.
Living in the high desert of Arizona you come across some strange insects. This fun looking guy was found by my technician Tory. He is called the Banded Alder Borer Beetle. It is in a family of beetles known as the longhorn wood boring beetle. They can be found from Alaska to Arizona. They  reach sizes of about 25 to 35 millimeters. The larva of this beetle feed on dead hardwood trees. They are not considered a pest but I wanted to share such a cool looking insect.
Beginning to see a lot of ladybug larva in the Verde Valley right now. Everybody is familiar with the adult version of this bug but not many know what the babies look like. Ladybugs feed on aphids and other garden pests. One common misconception about the ladybug is that as it ages it gets more spots, when in fact they are born with the number of spots they will have. There are about 500 different species of ladybugs in the United States. Ladybugs received their name from catholic farmers, the farmers prayed to the Virgin Mary for help with the crop-destroying insects. A few days later, the lady bug showed up. The farmers named the beetles "the Beetles of our lady" and they later became known as ladybugs.
Category : Bugs | Cool Bugs | Blog
As we start to get into the full swing of spring, it's a good time to walk around our homes and check stuff out. We find many times that beehives will go unnoticed until the foragers start to get active. In the spring, worker bees will be very busy gathering pollen from all the new flowers in the high desert.
Beehives can become very aggressive as they grow larger because the bees want to protect all their hard work. Coming in contact with a beehive is where people and animals get into trouble. Bees, when threatened in their home, will protect it in large numbers. This is when bees becomes very dangerous – they will alert the hive to attack and once agitated it takes them a long time to calm down.
Take a look at the pictures to see a couple of hives that we removed from homes in Prescott and Sedona. Always call a bee removal professional to handle any established hives around your home. Arizona Bug Company will give you a free estimate for beehive removal.
We were called about subterranean termites in Clarkdale, AZ today and couldn't have come across a more textbook infestation. The owner of this home was unaware of these little guys until they discovered a water leak at this plumbing trap. The termites had concealed themselves in the wall, leaving very little evidence of their presence until the wall was removed to get at the plumbing. You can see in the photos the amount of damage they managed to accomplish before they were discovered.
In the photo of just the white drywall take a look at the line on it that goes virtually unnoticed. This is were the termites have eaten the paper out from behind the texture. Termites will eat the softer cellulose generally before going after the harder wood.
These guys will be treated with a application of Termidor and we also want to make sure the water leak is fixed to remove any excessive moisture from the area.