We really appreciate everyone out there that voted for us in the 2013 Sedona and Verde Valley readers choice awards. It has been our focus at Arizona Bug Company to provide our community with the best product we can. We make it a point to continually grow and improve our service to give you the best product. We offer Termite, General Pest, Rodent and Weed services to all our friends and neighbors and with out you we couldn't be where we are today. Thank You everybody
We really appreciate everyone out there that voted for us in the 2012 Sedona and Verde Valley readers choice awards. It has been our focus at Arizona Bug Company to provide our community with the best product we can. We make it a point to continually grow and improve our service to give you the best product. We offer Termite, General Pest, Rodent and Weed services to all our friends and neighbors and with out you we couldn't be where we are today. Thank You everybody
Happy Holidays From AZ BUG CO
We often get asked what is the secret to success in the pest control industry and if I could sum it up in one word I would have to say consistency. One thing I've been taught by my long time friend and business partner is if you want to win you have to be consistent. When I first met Mark we went to the local drag strip were he was going to be racing. I learned something very important that day it wasn't about being the fastest it was about being consistent and that has been our focus from our first day in business. Here at Arizona Bug Company we have assembled a team of highly qualified individuals to give our customers the very best in pest and weed control services.
Thank you to all of our friends and customers that have helped us become such a success in northern Arizona
Thanks
Kody Robinson
Arizona Bug Company
The long jawed desert termite ( Gnathamitermes perplexus ) is a very common termite here in the high deserts of Arizona. This termite is considered a great little recycler and no corrective action is suggested when you find them outside around the structure. Gnathamitermes coves its food with a plaster like mud then consumes the weathered surface (see attached pictures). We often get called out to houses because home owners are afraid that they are going to get into the structure but with their inability to eat hard wood they are not a threat. On some occasions we have found Gnathamitermes coming threw cracks in slabs and eating the paper on drywall. When this happens we do suggest a corrective action to stop this type of structural damage.
During a routine termite inspection in Sedona last week I came across a few spiders. The majority of them being black widows. So I thought this would be great time to remind folks to keep their eyes open when getting into your storage areas. The widow is a very shy spider but will bite if provoked. Please look at the pictures to get a good look at the spider and its egg sacs.
The Elegant Bush Katydid lives in the Sonoran desert among the desert scrub. They feed on various desert plants but do take a likeing to mesquites. This insect can often be found on the side of houses in the morning because they are atracted to lights at night. True masters of camaflage as you can see in the picture. It always amazes me how they even get the aging leaf patterns on their wings.
Category : Cool Bugs | Blog
You really never know what you will find doing this job. The other day Mark was doing a routine termite inspection and found  a large hive of bees in the attic. We had to approach the bees with caution because once you got into that section of the attic you could not retreat quickly if you needed to. We treated the colony with foam and the removed it. With the large number of Africanized hives this could have been a dangerous situation for a unsuspecting home inspector or service person that needed access to the attic.
One thing we really pride ourselves on here at Arizona Bug Company is our ability to create some of the nicest spray equipment around. My business partner mentor and long time friend is probably one of the most talented guys I know when it comes to keeping us running with state of the art gear. He builds all of our spray rigs from scratch so we can have them just the way we want them. Recently we acquired two Ford Rangers to add to our ever growing service fleet and built two nice spray rigs to outfit them. Here are some pictures of the build process so you can see how much work goes on behind the scenes to keep us up to date with some of the nicest gear in town.
Vesper bats are the common bats we see flying at dusk in Arizona. They are insectivores that use echolocation to hunt.  It is quite common for these bats too cause unsightly staining from fecal matter and urine on houses in overhang area's. Bats are protected here in Arizona and are considered beneficial. Deterring them from an area is the only method of control allowed by the Arizona Game and Fish. You can try mechanical, electrical and liquid deterrent I have had limited success with all. Mechanical is physically sealing the area from bat entry. This is sometimes extremely difficult to do and can be expensive but if done correctly is the most effective. Electrical is the use noise emitting devices that disrupted the bats from flying to an area. I have used these with some success but some people find the noise emitted disturbing. Liquid is by spraying a product like Liquid fence in the area bats are landing it seems to work good for short term but smells bad during application and needs to be applied frequently. Please check out the pictures of some common Arizona bats and the staining they can cause.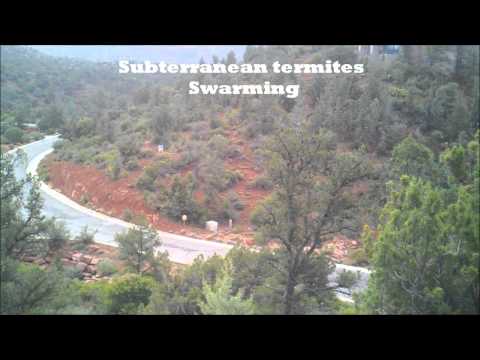 While working in Sedona Arizona this past week during the monsoon season we came across these subterranean termites swarming out of the ground to take flight. I put together this little video so everyone could see this phenomenon. Enjoy